Popular Flooring Choices: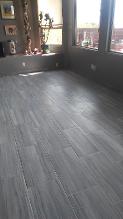 Porcelain: A better choice of hard surface flooring than ceramic, porcelain tile is more dense and even more resistant to wear. Porcelain has a lower absorption rate and great frost resistance, making it ideal for indoor or outdoor use. Whether it is installed on your floor, counter top, shower, or patio porcelain tile is a long lasting value.
Ceramic:

A great choice for hard surface flooring that is resilient to damage and wear. With broad color and style choices and a variety of sizes, ceramic tile will last for years.
Glass: Available in an array of colors and designs, glass is a great decorative choice for your backsplash, designs, or borders.
Saltillo: Given its name from its place of origin, saltillo tiles are another form of hard surface flooring. Very popular here in Arizona for their southwest look, saltillo tile colors vary in an array of reds oranges and yellows. A quality sealant is necessary after installation as saltillo tiles easily stain and scuff if a sealant is not applied. Saltillo tile is very porous and thus not recommended for outdoor use, especially in climates known to have freeze-thaw periods.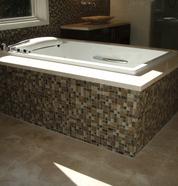 LVT/LVP: Luxury Vinyl Tiles an Planks are a style of flooring that has shown a lot of growth over the past few years due to their prices decreasing. LVT's and LVP's should not be confused with peel-and-stick flooring or sheet vinyl products that are rolled on to floors. Luxury vinyl is a very durable product and is waterproof. As a PVC based material, luxury vinyl is similar to flexible rubber. It is available in standard tile and wood plank sizes and formats. Each piece of the flooring is a separate piece, much like tile, and is glued directly to the sub-floor (LVT is also available in a floating format). It is difficult to scratch, does not tear and holds up excellent against every day wear. Should the flooring become damaged, because each piece is independently adhered, repairs are easy and inexpensive; simply remove the damaged piece and adhere a new one in its place.
VCT: Short for vinyl composite tile, VCT is typically used in commercial applications because it is inexpensive and durable. VCT is able to hold up to the rough abrasive and chemical used in commercial floor maintenance. VCT consists primarily of limestone as a "filler" and is available in an array of colors.
*All natural stone requires sealing and regular maintenance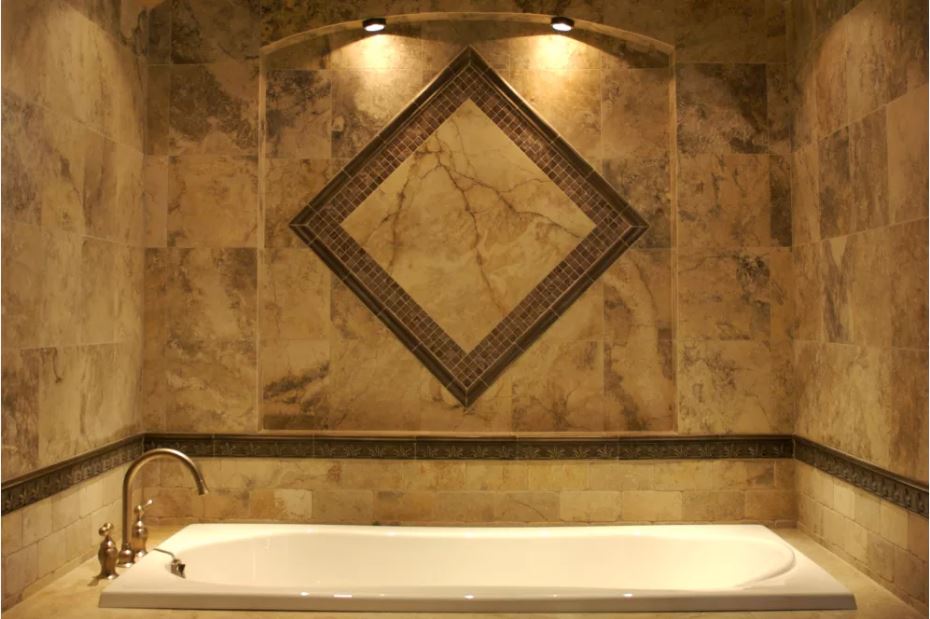 Travertine: A sedimentary limestone, travertine has a clean, natural look to it. The stone is naturally very porous, even so much that it sometimes has holes penetrating from the back to the face of the tile. This is due to pressure, heat and water flow when created in the earth. During fabrication, often times these pits are filled to create a level surface that can be more easily and effectively treated with sealants. A sealant is highly recommended after installation, not only to protect the stone from staining, scuffing, and wear, but also to draw out the natural colors of the stone through the use of color enhancers. Recommended for use indoors.
Slate: Slate is a metamorphic rock produced by immense amounts of pressure on sedimentary rock. It is foliated (layered) and finely-grained. Slate abounds in color variation from light to dark gray as well as purples, greens, blues, coppers, and everything in between. Slate can be used where most other flooring can indoors or out,and even as a piece for decorative design. It is even known to be used on rooftops as shingles ideal for its very low absorption rate, reducing likelihood to freeze and crack.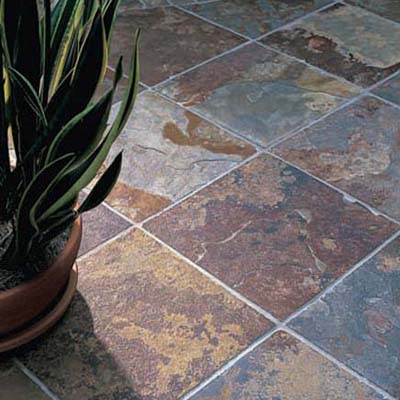 Granite: With likely the largest variation in natural stone, granite is a beautiful igneous rock and very durable. Incredibly resistant to scratching, staining, and heat granite can handle abuse that most materials can't. Granite has antimicrobial properties. Available in both slab and tile formats this luxurious material is great for counter tops, walls or even designs. A nearly worry-free surface, granite will last for generations in your home.
Onyx: Similar to marble, and often called "onyx marble", an array of deep and translucent colors are visible. Great for a smaller counter or bar top even a hearth to your fireplace. Onyx is available with a large variety of colors and designs, from white and red bands to extraordinarily deep blacks. Like marble, onyx is softer than granite and is more prone to staining, etching, and dulling similar to marble. A quality sealer can effectively prevent staining and basic care maintenance will prevent issues to keep your onyx looking great.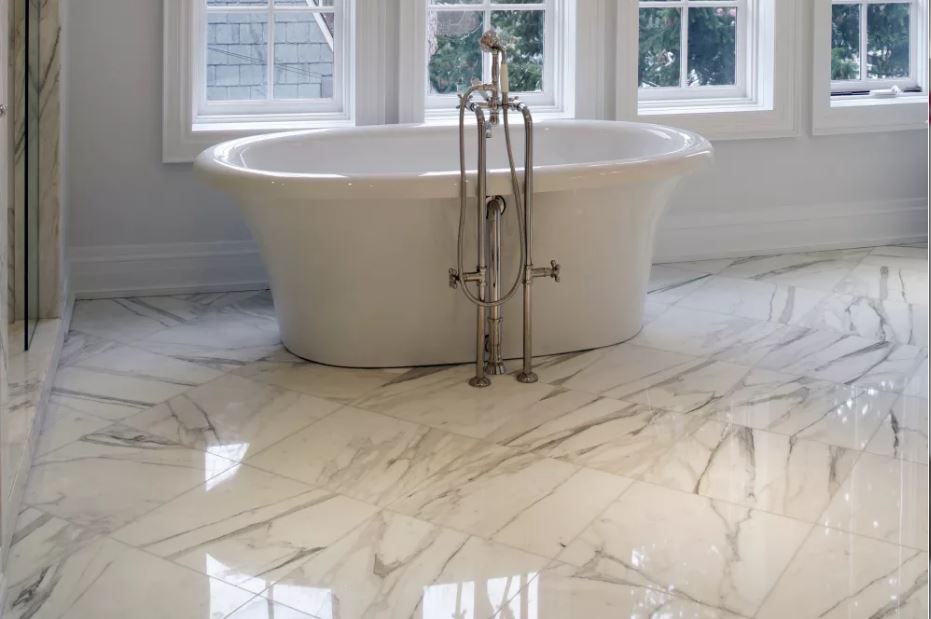 Marble: A unique natural stone most commonly noted for its rich beauty. Also a metamorphic rock, marbel is made from limestone that has been pressurized and heated, causing coloring and veining. Marble is typically polished to a reflective shine and used primarily on counter tops. The most common worry of marble is staining, a problem easily solved with a quality penetrating sealer. The elegance of this stone is unmatched and with little maintenance, marble can last for years.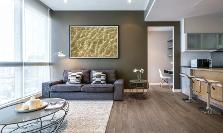 Engineered Hardwood: Hardwood is what every wood look flooring aspires to be. Durable, classy, and beautiful a hardwood is the go-to floor. In an engineered hardwood a cross-ply of wood is used as the base and a surface veneer of the species is used to reduce cost of the material as well as to provide strength against cupping and buckling. The veneer is thick enough to provide a wear area so that the plywood beneath does not show through even after many years of wear. There is no beating a hardwood when it comes to your home flooring needs.
Laminate: A composite wood designed to imitate hardwood. Laminate is available in a large quantity of patterns and designs, with prints very close to real wood. Laminates are a floating floor, meaning they are not physically bonded to the sub-floor. A pad underlayment is used to provide cushion to ease the step, help alleviate the hollow sound commonly associated with laminates, and to provide a moisture barrier to prevent swelling and warping. Laminates are a less expensive alternative to hardwood and are not as durable in some situations.
Bamboo: Another fantastic choice for a hard surface flooring, bamboo is comparable to a hardwood in many aspects. While production methods are quite different, the resistance of bamboo against wear and tear is every bit as sound as that of an engineered hardwood. Bamboo is available in a lighter "natural" color as well as a darker "caramelized" coloring (acquired through a baking process of the natural sugars in the wood), as well as a blend of the two. Bamboo flooring will bring a beautiful Oriental design aspect to your home.
Frieze: The ideal choice of carpet for a home, a frieze has a crimp and a twist in the yarn. The crimp allows the yarn to lay on its side, providing a resistance to the effects of crushing and matting. Thus traffic patterns are very well hidden and the increased twist in the yarn aid in reducing wear. This also aids in the cleaning process by allowing the carpet to be a looser density and by creating a net like barrier, preventing dirt from getting deep down into the carpet. The twist allows for a variety of looks when choosing a frieze. Each twist of yarn can consist of one color or two (known as a tweed). Another option is known as a fleck, which helps in the hiding of dirt and stains thru multi colors.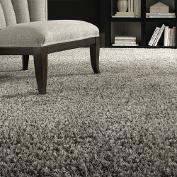 Plush: A carpet style with more residential appeal than that of a traditional berber, a plush carpet is a cut yarn. Available in low, medium and high piles, a plush can be chosen to meet your desire for comfort, appearance and durability. The denser a plush carpet, the better it can hold up to the damage of every day life. Density allows dirt and spills to sit on top of the carpet, giving you time to clean it before the mess makes its way into the carpet between the fibers where it can be very difficult on a denser carpet to clean. However after a point the denser the yarns of the carpet the less comfortable the carpet will be.
Pattern: Often a combination of styles, typically a plush and a berber (cut and loop), patterned carpets are unique in design. From simple geometric patterns to those that imitate waves or flowers, patterned carpets can bring texture to your floor and flare to your home.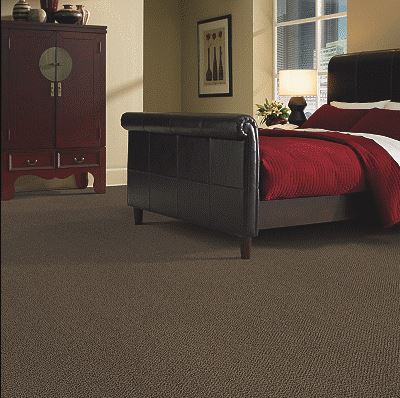 Berber: Berber is a style of carpet that is produced using a continuous loop threading. This continuous loop brings a durability to the carpet that isn't matched by other styles of carpet. The weaving of a berber more securely fastens it to the backing preventing unthreading and better strengthening your carpet. The loop of a berber makes for a denser carpet preventing crushing and matting and reducing traffic patterns. The durability of a berber also allows it to be used in a commercial setting where traffic is heavier. Berber carpets are available in beautiful residential as well as commercial looks and styles.